Keywords are those specific words that people use to search for anything online. For every search done on Google and other search engines, they go individually across all websites and look for the existence of that specific keyword. If these keywords are found, search engines will include them in their results.
Keyword research becomes important because it gives us an idea of which keywords people are searching for and in what volume. You cannot expect anyone to visit your page if you use keywords in your article with zero monthly volume.
The lack of keywords is the reason why 90% of all websites in existence do not get any traffic from Google.
But before, let us understand some terms.
What are SD and PD in Keyword Research?
SD is the SEO Difficulty. This score calculates how difficult it is for anyone to rank a website for a certain term. A high SD score, like 80 or 90, means ranking a new page on Google is impossible. While a low SD score of 15 or 20 means ranking is easier.
PD is the paid difficulty. It is the measure of how costly it will be to place an ad for the term. Highly competitive keywords have multiple companies trying to place their ad at the top. Therefore they have high PD.
Top Tools for Keyword Research
There are several paid and free tools available for keyword research. All the volumes displayed here are monthly volumes.
Google Keywords Planner
Google keyword planner is a free tool provided by the Google Ads platform. The tool is used by advertisers to identify keywords that are profitable and have a high volume. You can use this tool for keyword research too.
Why use Paid Tools?
Rather than doing a hit and trial for each keyword to check its potential, you can use a paid tool to save time. Paid tools are expensive but get the job done much more accurately. They help conserve time and effort.
Ahref
This keyword planner is one of the most efficient ones. it provides deep insights into how much volume might get converted into actual traffic. It also provides further details like Global Volume, which shows the search data from other countries for that search term.
I used Ahref for more than a year before switching to Ubersuggest due to cost. Though more expensive, Ahref is a very powerful tool if you can afford it. It provides deep insights into past trends in volume for keywords, intent, parent terms, etc. Parents terms are used to create keyword clusters which is very necessary to rank on Google.
Ubersuggest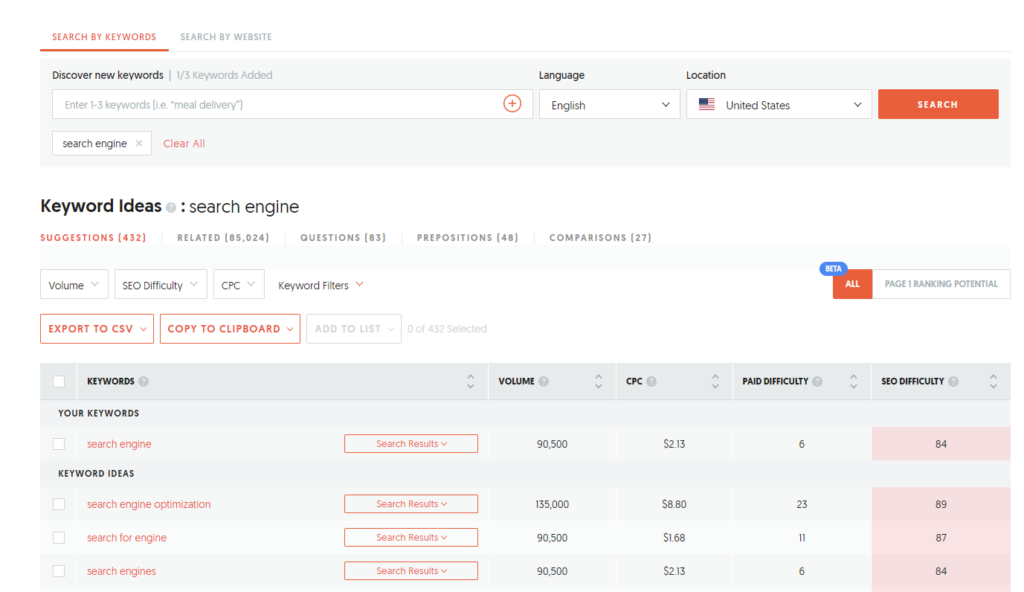 Ubersuggest is a cheaper alternative to expensive tools like Ahref and SEMrush. It costs just $12 a month for beginner plans. The tool does all the work necessary for a beginner to mid-tier SEO project.
You can use the tool to:
Search for specific keywords and related phrases.
Choose a difficulty level based on your Website's DA.
Filter keywords based on CPC for ads
Check the SERP results to check how much DA score and backlinks you need to rank on Page 1.
Guide to Keyword Density in SEO
Though there is a bit of confusion regarding which is the perfect keyword density, the generally agreed metric is below 5%. SEOs and content writers prefer keyword densities of 1.5-2.5%. I personally prefer to keep density below 2%.
However, one should not try to keep the density low artificially. Words naturally appear in a certain way in language. Keeping the keyword density low by force destroys the language's natural flow, which might impact your SEO negatively.
For example, this article has a density of 4.4% which is much higher than my usual limits. Yet, I have left the copy untouched with respect to keyword density because it would negatively impact customers' readability.