SEO optimization is a relatively easy task if you have a stepwise approach. You have to take care of the three pillars of SEO: On-Page, Off-Page, and Technical SEO. Let us understand each of them in detail and explore a few examples. We will also explore how to execute each of them with best practices.
Table of Contents
A. On-Page SEO
On-Page SEO is the optimizations that you can do by modifying your website, its pages, and its posts. Google and other search engines like Yandex expect your website data to be in a certain format. Headings, text, quotes, images, and other parts should be distinguishable from each other. Further, there should be enough elements in the page or post, such as graphs, charts, data points, images, and other infographics, which helps the reader understand the topic.
Though search engines have their own set of ideas on what constitutes a good search result, there are a few basic elements that are common to all of them.
On-Page optimization is the easiest of all SEO optimizations because here, you have full control over almost everything that is necessary to rank a page on Google or other search engines. Further, this is the easiest part of all SEO optimizations.
Common On-Page SEO Optimizations
Here are a few common on-page seo optimizations that are necessary to create high-quality pages and websites for search engines.
1. Keyword Optimization
Keywords are those specific words that people use to search for anything online. For every search done on Google and other search engines, they go individually across all websites and look for the existence of that specific keyword. If these keywords are found, search engines will include them in their results.
Keyword research becomes important because it gives us an idea of which keywords people are searching for and in what volume. If you use keywords in your article with zero monthly volume, then you cannot expect anyone to visit your page.
The lack of keywords is the reason why 90% of all websites in existence do not get any traffic from Google.
2. Headers
Headers are the titles or subtitles that help distinguish the topic and the text of the articles. In Google Docs, MS Word, and several other text editors, these are usually visible in bolder or bigger sizes.
Header optimization is important because search engines like Google do not read your entire text to get an idea. They use hierarchies to understand whether data is useful or not.
3. Image
Google and other search engines have different variations that search for images, videos, news, shopping items, etc. Image search is one of these search engine variations, which looks for images relevant to a search query.
Though these are image search engines, they also use text to look for pages that might answer their search. Search engines discover these pages via text called "ALT-TEXT." Alt text is the string of words displayed on a website when an image cannot be loaded due to slow internet or other reasons. Search engines use this alt text to index (gather information) and filter pages with the highest value based on their ranking algorithm.
4. URL
URL is no longer a factor used for website ranking on Google; it is still valuable for other search engines. Further, URL is used for categorizing pages and posts as per their respective categories. A well-categorized set of pages is easier to get indexed by Google using a sitemap. We will explore sitemaps later in this article under Technical SEO.
To make URLs simpler, several websites affix the post name after the website URL. Some examples are:
4.1. URL with Categorization
https://www.allrecipes.com/recipe/10813/best-chocolate-chip-cookies/"
Here you can see that the post for "Best Chocolate Chip Cookies" is under the category "Recipe".
4.2. URL without Categorization
The same URL can be simplified to include the page name or post name.
https://www.allrecipes.com/best-chocolate-chip-cookies/
Notice that we have removed "/recipe/10813/". It is completely optional for you to choose whether you will retain categorization or remove it from your URL.
This will have no impact on the internal categorization of your website. All posts will stay under their respective categories. However, these categories will just be omitted from the URL.
5. Meta Title and Meta Description
Meta titles and Meta Descriptions are essential for you to rank your website on Google. They become necessary because, after a certain length, Google truncates the extra characters when search results are displayed on the results page.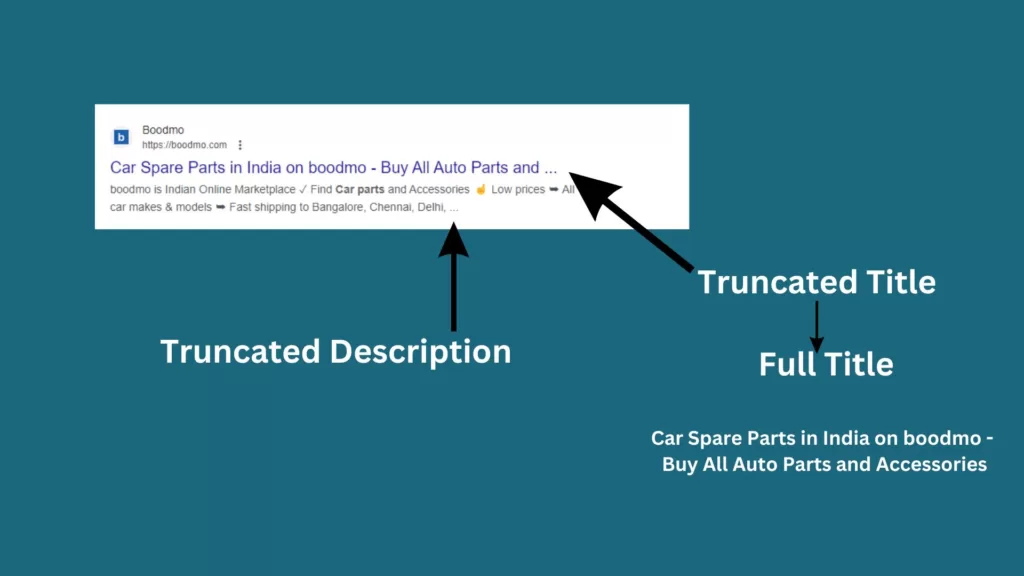 You can see in the above image that Meta Title and Meta Description have been truncated because they exceed Google's limits. These limits are around 55 Characters for Meta Titles and around 160 Characters for Meta Descriptions.
6. Schema Markup
Schema Markup is a method through which search engines understand the structuring of your page. This becomes essential because it helps search engines understand your page content easily and decide quickly if it suits search results. By adding schema markup, users can offer extra details to search engines such as reviews, addresses on Google Maps, etc. These additional features also help you rank on Google rich results.
Above are a few recipes for the term "vegan cookies". Getting featured in rich results such as snippets helps you beat the competition by a huge margin and rank at the top of the first page.
7. External and Internal Links
Links are necessary when you quote some fact or data, especially when the data is not yours. External links are often used as references, while internal linking encourages users to view other related pages.
It is necessary that all the external links are from reliable sources. Though it is a minor factor to add external links to a reliable website, it still adds to the factors that contribute to the overall ranking of your page.
B. Off-Page SEO
All efforts to rank your page from outside your website are known as off-page SEO. These include social media promotions, obtaining backlinks, and promoting your site on Medium, Quora, and Wikipedia.
1. Social Media
Although most people ignore it, Social Media is an unalienable part of website SEO. Social shares are always counted while calculating the rank of your website. I learned this through SEO tools that never fail to show the number of social shares while auditing a website or analyzing a search query.
If your website is being talked about by more users on social media, it will attract the attention of search engines like Google. Notice the three right-side sections where Facebook, Pinterest, and Reddit shares are visible.
2. Backlinking
Backlinks are a way of expressing confidence in a website. When someone links to your website as a reference, they trust that your information is trustworthy and important. Therefore backlinks are a vote of confidence in SEO.
However, some rules associated with backlinks decide whether they are useful or harmful.
Useful backlinks
Backlinks from high authority websites.
Backlinks from websites within the same niche or industry.
Backlinks from websites that do not link out much to others.
Harmful Backlinks
Paid backlinks from websites that trade them.
Exchange backlinks.
Creating spam posts for backlinks.
Backlinks from low-authority websites
Backlinks from low-quality blog networks.
Google and other search engines like Bing or Yandex have a way of identifying these bad-quality backlinks and punishing you by decreasing your page score.
2.1. Medium, Quora, and Wikipedia
Medium, Quora, and Wikipedia are unique aspects of blogging because they are very high-authority websites. Still, the value of backlinks from them depends upon the level of traffic acquired by the articles with backlinks. To make it simple, higher traffic on an article containing your link means higher quality backlink.
In Medium, you can post about your business or post some useful information and link back to your website.
Quora helps you answer questions and works on the principle that higher traffic means higher-quality backlinks. However, do not spam your links on every answer; it will harm your website.
Wikipedia is a high-quality source of backlinks, even if they claim to use "no-follow" linking. However, links to businesses and private pages are often removed if they are not widely known websites. I have myself got my IP address blocked by Wikipedia in the process of getting a backlink. Overall it's a high-risk, high-return game.
2.2. Business Listing
Business Listing Websites are also a good source of backlinks, but it really depends on which website has higher authority. If you do not understand how domain authority and links work, it is best to avoid this step.
C. Technical SEO
Technical SEO refers to the website and search optimization that help make your website fast and agile. They also help increase the discovery of your website on Google.
Permalink
Search Console for Google
Indexing
Sitemaps
Robots.txt File
Pagespeed
Media File Compressing
JS/CSS
Lazy Load Optimization
Bing Webmaster Tools
Redirect Loop
Javascript to Render Content